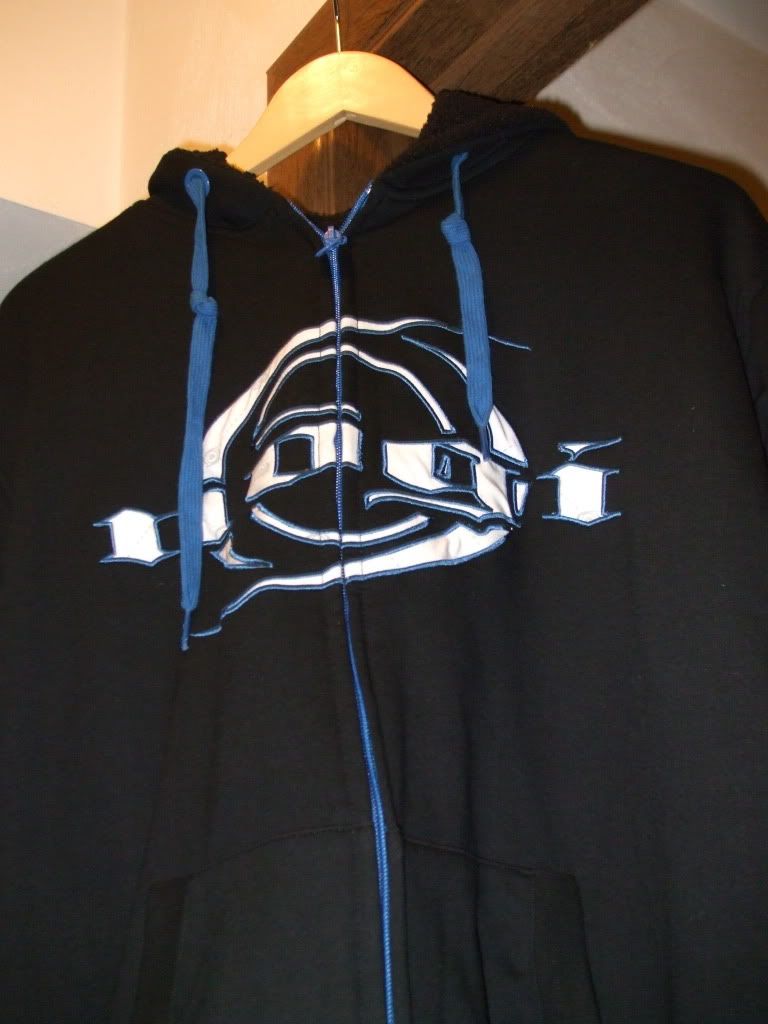 Hoodie detail just didn't come out like I wanted. The white logo is actually similar to the white kingpin shorts (i.e. -- has the tiny grey o's on them).
The material of the volts is slightly lighter (to me) than the kingpins. Embroidery is insanely nice on all models.
Actually a lot of things to discuss here, so I'm probably going to go at it a piece at a time. We'll start with the hoodie. For those of you who don't know, I'm female, so my opinions on sizing will likely not be as accurate for you fellas. I've got more curves than y'all, but for what it's worth, I'm really short and have pretty stout legs/quads. Wear an A2 gi. Far from frail.

Yes, you need to order up a size for the sherpa lined hoodie. At least one size. If you plan on wearing a thicker top (i.e.-- sweater, fleece, anything much more than a t-shirt or perhaps thermal), maybe 2 sizes up. The sherpa lining is THICK. I normally get large regular hoodies from Nogi, and this actually fits about the same by the time the lining is accounted for.

too a few more shots to try and show the detail on the chest logo, the embroidery on the hood, and the thumbholes for hand warmth.
also, ipod pocket within the front left pocket is an added bonus. Has a reinforced metal grommet for your headphone wire to poke through. Not sure it'll fit my big video ipod, but certainly ample space for a shuffle or nano.
outer material is heavyweight cotton, don't see it failing anytime soon. Embroidery is absolutely superb. Would LOVE to see color variants on this. Maybe a white outer, red embroidery, grey lining using the black kingpin material? Hell, as long as it ain't pink. lol
gorgeous hoodie. I have zero complaints.
more grey volt shots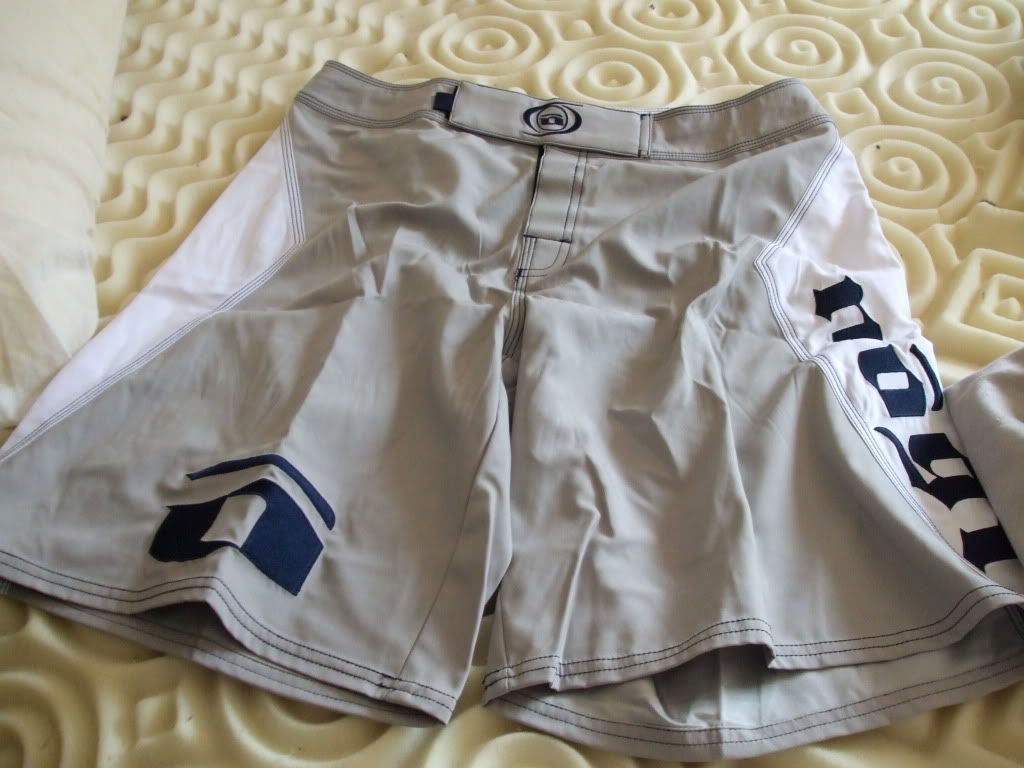 front side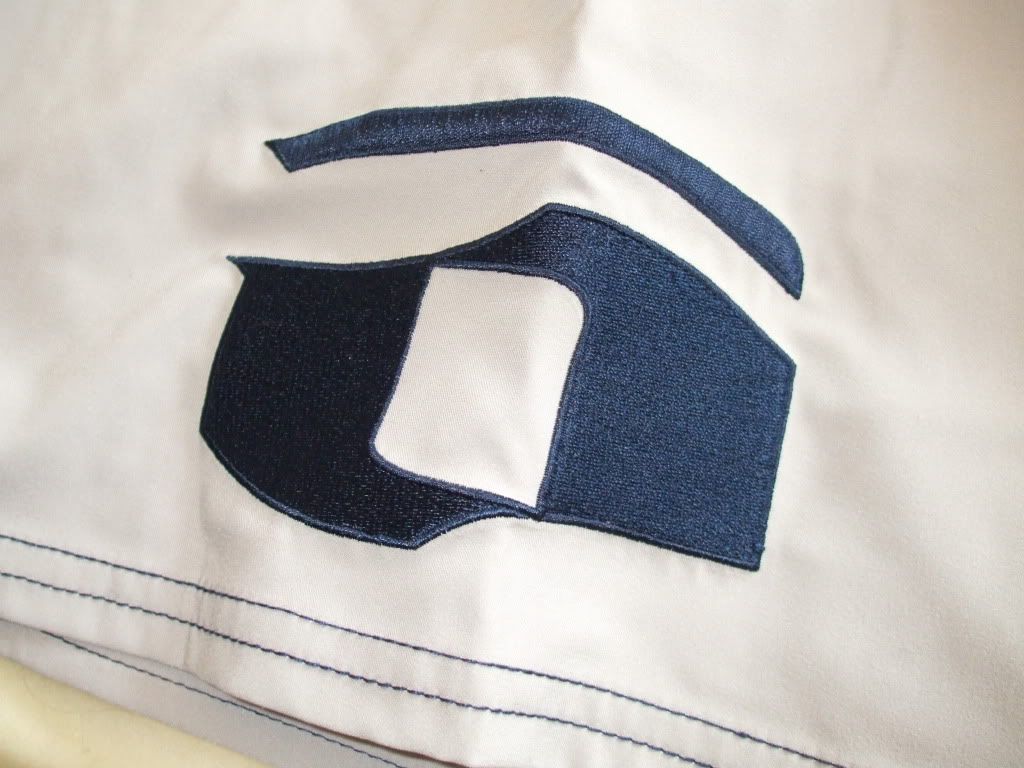 front leg embroidery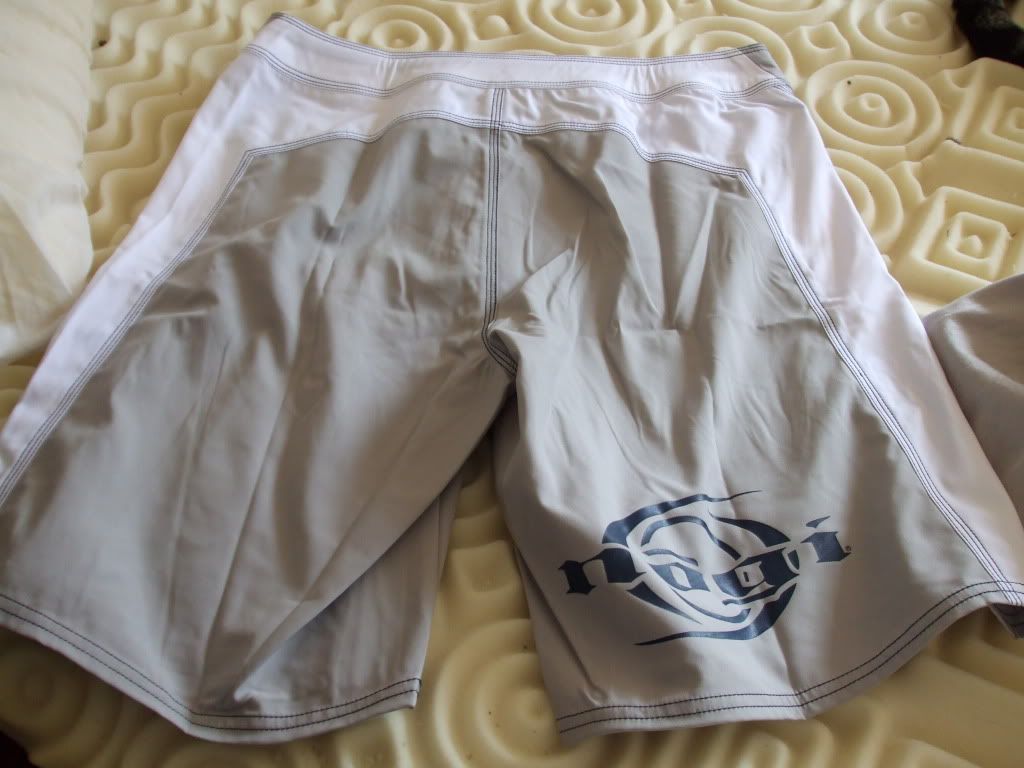 back side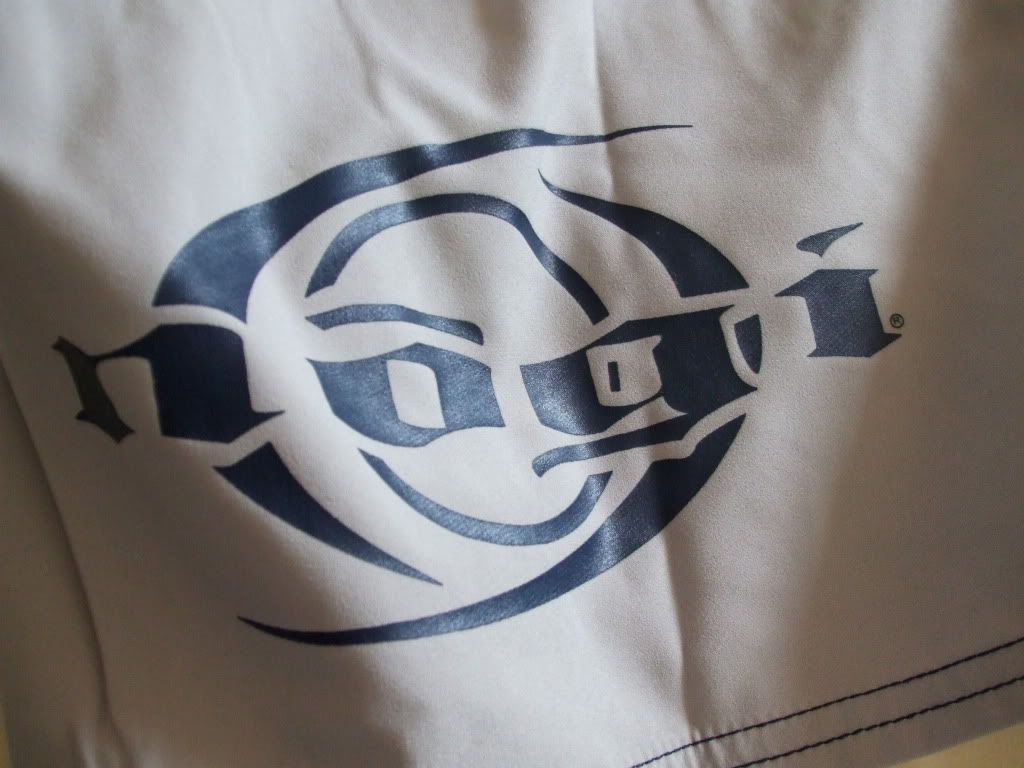 back leg applique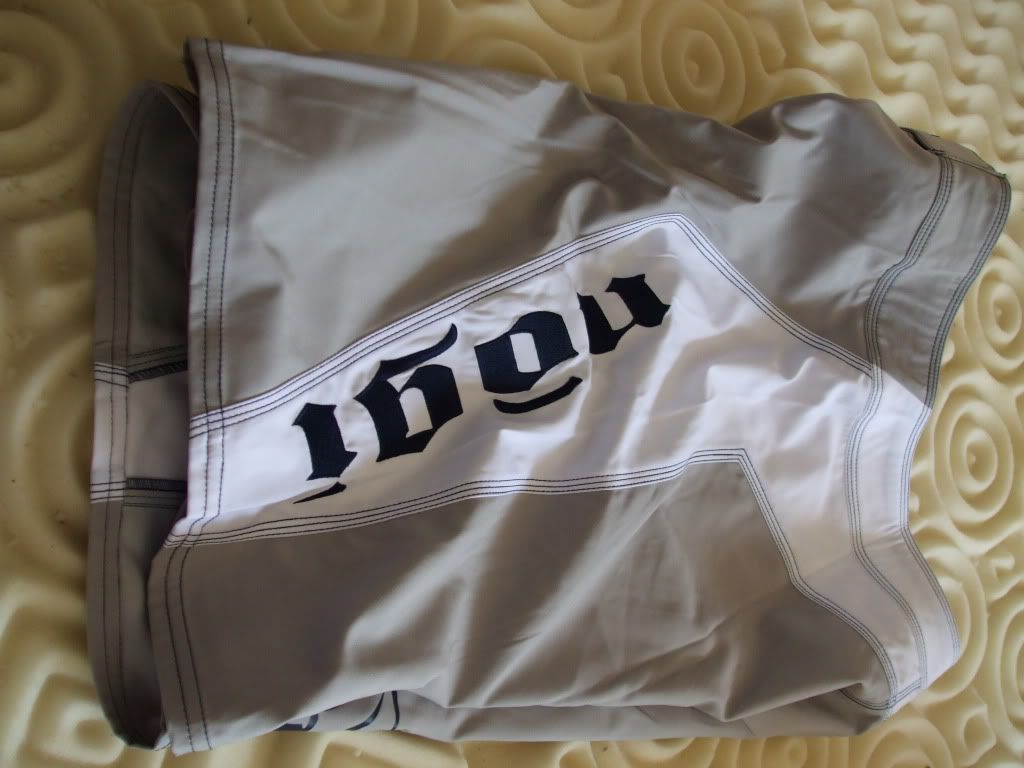 side shot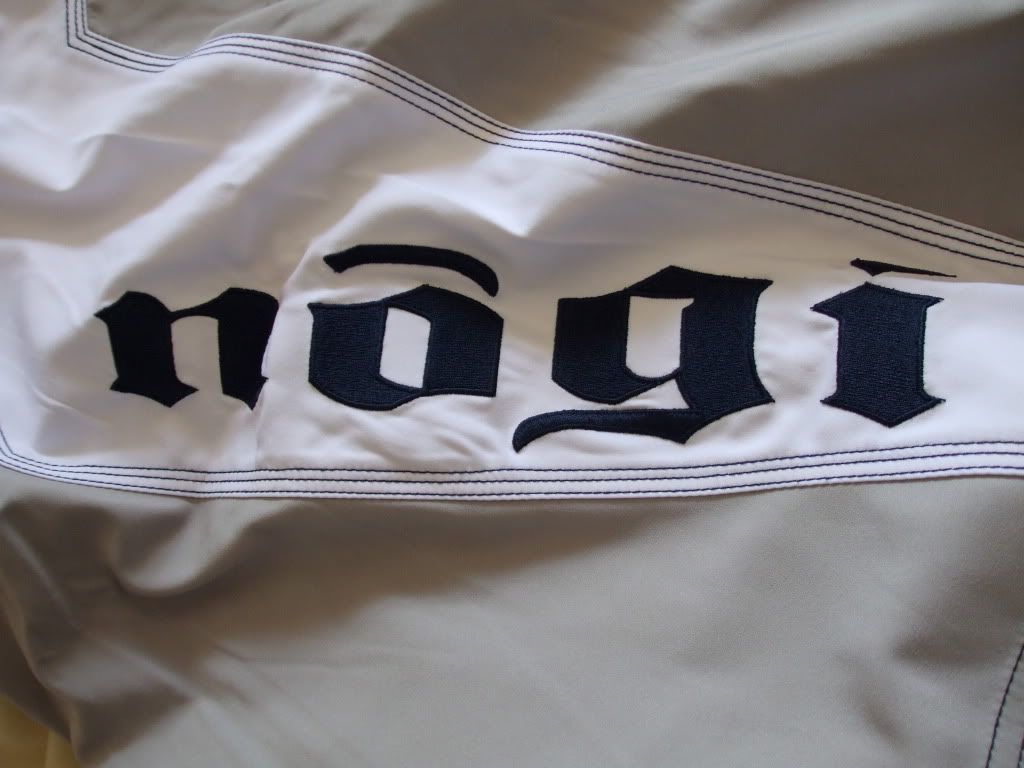 side leg embroidery
front closure embroidery
front closure/inside waistband
As a fan of the previous ghosts/phantoms from Nogi, the grey, black, and brown Volts are all wonderful iterations along that forefather design. These run to right at/below my kneecaps (sorry, no pics, I need to shave). Ample leg openings - no kick restrictions whatsoever. To me, the cut of these, especially the seam placements, make for guard-friendly action. Your hips should be plenty free from restriction in these.
closure is solid, the velcro is strong as is its stitching (for those concerned by previous model's velcro being too strong for the stitching, that appears to have been addressed). For you fans of drawstrings, that has also been implemented. While a departure from prior Nogi closure systems, this one is just as good. I've noted no chafing from the wider closure fixture when playing guard or being stacked.
no pockets on this model, so no concerns of getting fingers or toes snagged while playing ground game.
the back leg has a graphic imprint on it -- seems sturdy to me, no breakdown after repeat washings at this point. Plenty of open space for your own sponsors, incidentally.
the embroidery to the side leg and front right leg is fantastic - a hallmark of Nogi. Overall stitching seems solid to me thus far.
material is typical Nogi fare - lightweight but durable, and just as comfy as anything I've encountered on the market today. Moreso, actually. Nogis continue to be my standard for comfort - I wear these as much for hanging out as I do training (although the 2 tend to overlap more and more for me these days).
the 2-sided beanie: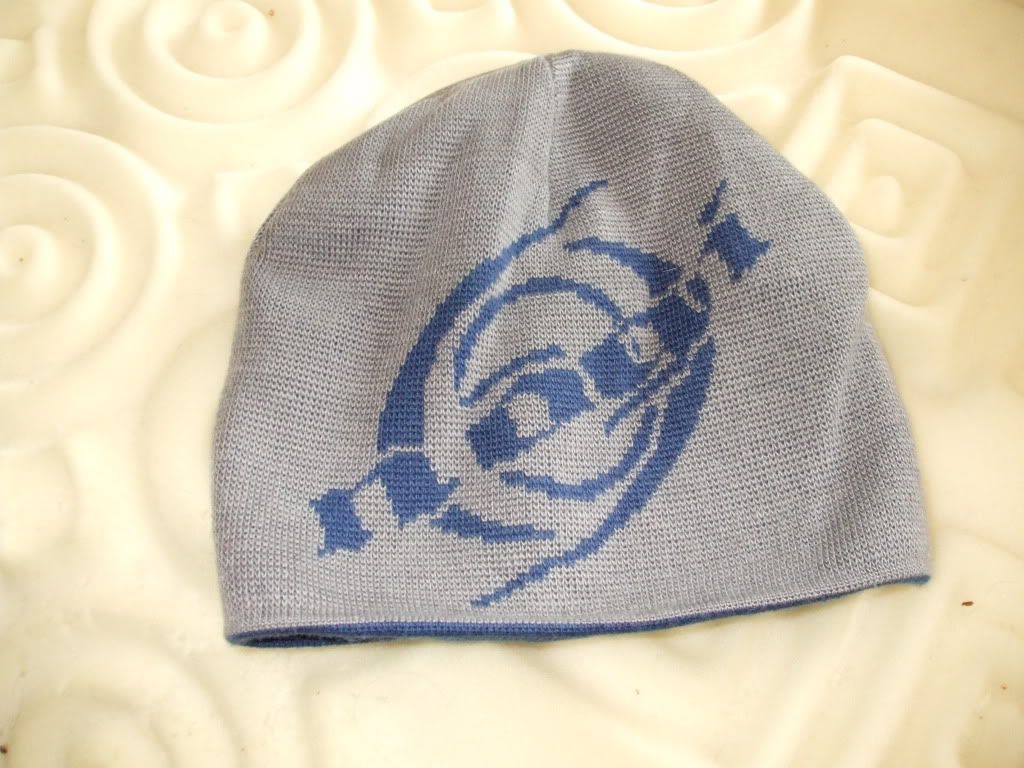 and I mean, it's a beanie. a damned handsome one at that. two, actually.
I find the material on the Kingpins to be thicker than the Volts, but just as comfortable. The graphics are very very sharp. Outstanding embroidery.
this model has a back pocket, incidentally. And it's free-floating - meaning there's a separate pouch for the pocket that isn't 100% fixed to the inside of the short. Typical velcro closure similar to the old Grill shorts.
slight split to leg opening, not that it needed it. As much ornamental as functional I would wager - an appeasement to those who insist on needing a split on the leg opening.
The piping is nice, sturdy.
I'm imagining that the heft of these shorts comes more from materials being layered atop the black "frame" material -- if you look at the shorts inside out, you see it's not like one piece attached to another piece of material. Don't be deterred by the issue of weight, it isn't cumbersome. The comfort level is certainly not compromised. If anything, it just makes the shorts feel nicer, of higher quality. Being limited editions, I'm sure that's to be expected.
rashguards - speed short sleeves, rank rashguards, and loose-fit.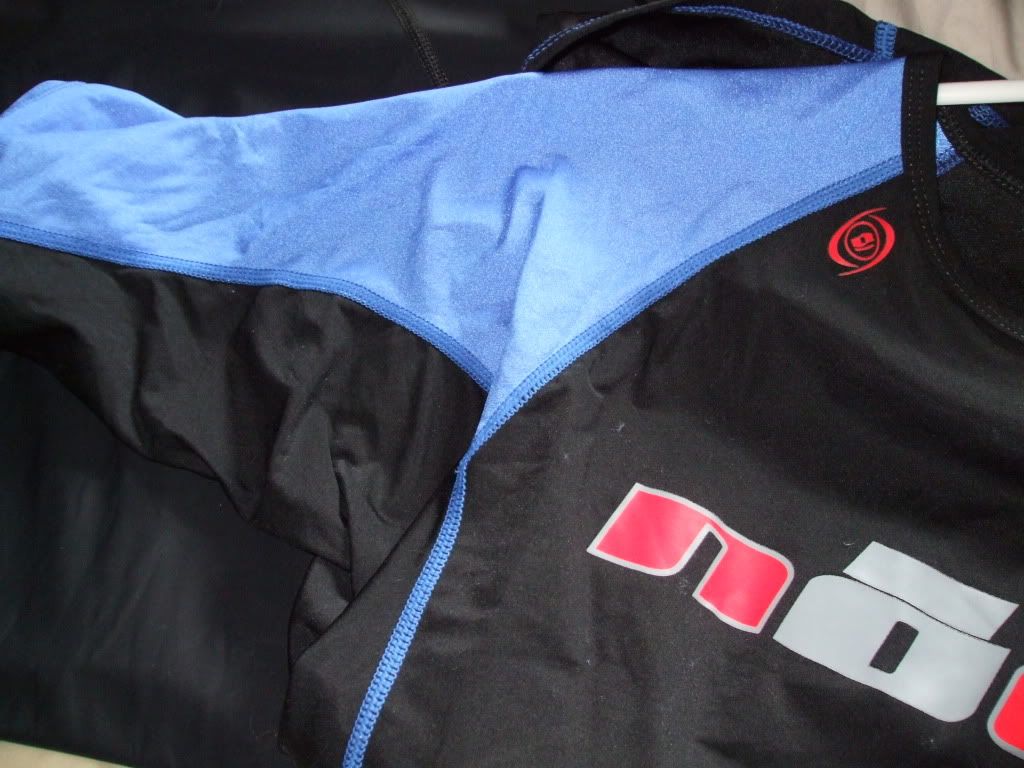 lower profile neck on the rank rashguards, but the neck of the regular speeds are also lower profile than, say, atama rashguards... otherwise, the speed rashguards are thin, sturdy fare. I've yet to have any degradation of graphics on my nogi rashguards, and expect no different from these. The material is a bit thin, but far from flimsy.
the blue of my long-sleeve guard was lighter and the short sleeve model, but may've just been a coincidence of timing - I did not order both at the same time.
on the ranked rashguards, I especially like that the side seams are offset to run just slightly towards the front and back -- that is, not going perfectly down the sides. I believe this allows for better dispersal of stress to the garment according to specific typical demands. Layman's terms, it ain't gonna tear as easy from strain as it might were it constructed like a typical shirt/rashguard with regards to seam placement.
Generous length, overall -- I never worry about the bottom of the rashguard riding up from my gi pants or shorts.
smooth stitching/seamwork - no chafing that I've noticed.
the loose fit is a thicker lycra than the speeds. minimalist logos. generous sleeve length on the short sleeve model.